TECHNICAL SUPPORT
PLEASE READ BEFORE SUBMITTING YOUR REQUEST
Is you product under warranty, either provided by the dealer you purchased from or by us?
First of all it is necessary to get in touch with your dealer to know if they offer a specific warranty policy applicable to your product or if they can solve your issue. If you purchased directly from us, please notice that we will provide free support and eventually fix or replace a defective unit within 90 days from the purchase date, unless you have registered your product and therefore you have obtained lifetime warranty coverage. The instructions about warranty registration are described in the paper included with your product or at the dedicated page on this web site.
Have you removed the foam from the back of the SurfyBear?
We use a small piece of foam to block the spring for transportion purposes. Remember this has to be removed before using the SurfyBear.
Have you checked the connections to the reverb pan inside the reverb unit?
Please remember the SurfyBear is a fully analog unit and inside of it there is a reverb pan which is connected to the circuit board with 2 RCA plugs. Opening and inspecting the unit does not void your warranty, so please make sure that the RCA plugs and properly connected since sometime, due to transportation or excessive shaking, they can get loose.
Have you tested the SurfyBear unit with the provided power adapter?
If your unit is not powering up, is noisy or works intermittently please make sure to test it with the original power adapter first, disconnecting it from any power banks or other power devices.
Have you changed the position of the SurfyBear unit?
If you are experiencing buzzes or noises because you keep the SurfyBear on top of your amp or very close to power devices like power banks on a pedalboard, please notice that these units are sensitive to electromagnetic interferences. Move them away from those power sources to see if the noise reduces or disappears.
Have you got a little pin that is loose or came off your reverb unit?
No worries: that little pin comes from the reverb pan and there are no problems with your unit. Some pans have these pins which theoretically would serve as a block to avoid excessive shaking of the springs box, but that realistically have no real use. They are lightly soldered to the pan chassis and a vibration can cause them to come off, but this does not affect anything at all either with the sound or the validity of your warranty. We recommend anyway to use the foam padding when transporting the unit to protect the springs.


Do you have problems with your DIY SurfyBear or SurfyTrem kit?
We are sorry, but we do not provide anymore any kind of assistance on these products unless you were registered for warranty.
Have you checked our F.A.Q. section?
Make sure you have checked our F.A.Q. to see if you find there an answer to your questions.
If none of these apply to your case, feel free to contact us anytime via email at
service@surfyindustries.com
and we will get back to you in the shortest time possible.
SUBMIT YOUR INFORMATION
If you contact us for assistance, please provide the following:
Your full name
Your product model (located on the top-right of the sticker)
Serial number (located under on the sticker below the bar code)
A full description of the problem: the more detailed you will be, the sooner and better we will be able to assist you
Photos or images of the product
An example of the sticker located on your product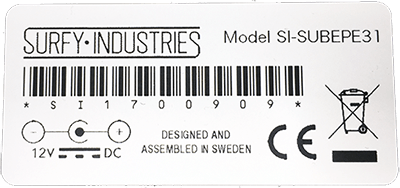 The information provided to us is strictly confidential and it will be treated in respect of our privacy policy for the sole purpose of your request of assistance.