VIDEOS
SurfyBear Classic 1.1 VS 2.0

SurfyBear Metal VS Compact

SurfyBear Classic VS Metal VS Compact

SurfyBear Compact Unboxing & Demo

Bob's Tone Review - Episode #39
Spring Reverb and Vintage 1961-1963 Fender 6G15 Unit

Bob's Tone Review - Episode #40
Surfy Industries Surfybear, Real Spring Reverb Pedals Review

SurfyTrem Demo by Lorenzo Zow

SurfyVibe Demo by Lorenzo Zow

Surfy Industries SurfyPan demo and REVERB shootout
6G15 VS 4AB3C1B VS SurfyPan

SurfyBear & SurfyPan: how to swap reverb pans inside the unit

POWER ADAPTERS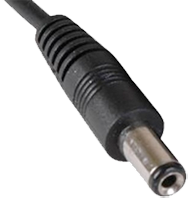 CENTER NEGATIVE

This is the typical polarity for 9V guitar pedals. Most pedals use a switch built-in the dc-jack to automatically connect the battery when no plug is inserted. This only works with center-negative polarity.
Used by
SurfyTrem
SurfyVibe
Blossom Point
We do not sell 9V power adapters
CENTER POSITIVE

Center-positive is the standard for most electronic devices and their power supplies. This has become a standard because the positive center will be well protected inside the negative sleeve (ground) from accidently get in contact with ground. This is the polarity of most 12V power adapters on the market.
Caution is required for using center-positive adapters since these can damage your 9V pedals.
Used by
SurfyBear Classic
SurfyBear Metal
SurfyBear Compact
The 12V power adapter is included with the pedal at purchase. If you need an extra power supply, it is available in our store.
POWER BANKS
The SurfyBear Reverb units run on 12V 1A center positive power. Please see information in the
Power Adapters
section.
When using a power bank to power your pedalboard, the best scenario is to utilize 12V 1A center postive, but 12V 500mA center positive also works. You may need to utilize a reverse polarity adapter as well.
We sell a third party power bank made by OnStage that utilizes the correct power needs of our SurfyBear line of pedals. Other power banks customers have had success with are:
Strymon Zuma
Eventide PowerMAX 7
Voodoo Lab Pedal Power 3 Plus
Harley Benton ISO 2 pro
Caution is required for using center-positive adapters since these can damage your 9V pedals.
REVERB PANS
This is the reply to some questions we received about why we are stocking the "B" (known as the horizontal) version of the reverb pans:
The 4AB3C1B is the type most people use. Type B will give maximum separation between spring and transducer in horizontal position. Type C in vertical. The actual difference between B and C type is only the position of the suspension springs. This can also be changed easily by just moving the spring from one hole to the next Vertical position will give maximum protection against hard bumps up-down. Sensibility to vibrations are the same. Fender use vertical and horizontal position pans in their products. Our experience is that it's difficult to notice a difference. The sound is the same.
The SurfyBear Classic and Metals are stocked with an Accutronics 4AB3C1B and the SurfyBear Compact is stocked with Accutronics 8AB3C1B.
The reverb pan is a personal choice. Pans are replaceable and do go out from time to time. When looking to replace your pan, if you are registered for warranty, contact us for a replacement Accutronics pan that we stock the SurfyBears with. If you would like to purchase a pan, you can do it
Other pan options for different tones are:
MOD pans which have a longer tail and can be a little darker
Tube Amp Doctor pans are not as bright
SURFYBEAR REVERB UNITS
What is the difference between True Bypass and Non True Bypass?
Please see our video called SurfyBear Classic VS Metal VS Compact.

The SurfyBear Classic is non true bypass and this means it will always affect your signal even when the effect is off. You can notice a difference in the sound, in most cases making it a little darker but also fuller.
The SurfyBear Metal and Compact are true bypass and keep your signal intact when the effect is off. They also feature a clean boost to adjust the volume when the effect is on to balance a possible volume change.
I hear a sizzling sound / The pan sounds splashy
Please see the section about the Reverb Pans. We do not manufacture the pans used in the SurfyBears. We do however know that usually, if something is wrong with a reverb tank, the pan is often the issue. Our warranty covers the pans if your product is recognized to be defective within 90 days from the purchse date. Otherwise we sell the pans and they are also available worldwide through many retailers. If you don't buy from us, make sure you buy the correct reverb pan regarding technical specifications.
Have you got a little pin that is loose or came off your reverb unit?
No worries: that little pin comes from the reverb pan and there are no problems with your unit. Some pans have these pins which theoretically would serve as a block to avoid excessive shaking of the springs box, but that realistically have no real use. They are lightly soldered to the pan chassis and a vibration can cause them to come off, but this does not affect anything at all either with the sound or the validity of your warranty. We recommend anyway to use the foam padding when transporting the unit to protect the springs.


SURFYDRIP SWITCH
Does the SurfyDrip Switch work with the SurfyBear Metal or Compact?
It only works with the SurfyBear Classic, SurfyBear Metal 2.0 or reverb units with the same kind of on/off functionality (for example the Fender® Reverb Unit).